My name is Natalie Wotherspoon and I have been teaching at Bungaree since 2006. One of the most important things to me is family and friends and this is something that I love about working at Bungaree. This school has such a 'small family' vibe about it, which is often only associated these days with country schools. It is wonderful to see the growing community awareness of how awesome our school is. I am proud to say I am part of this family and get such a buzz out of teaching and getting to know all of these children.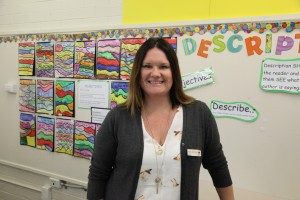 I am an experienced and enthusiastic educator with a passion for early childhood education. As an educator, I believe that every child can be a successful learner. My focus is to provide a classroom environment that is intellectually, socially, and physically supportive of learning. I provide opportunities for the students to lear both independently and collaboratively. I am dedicated to creating a classroom environment in which students feel safe and confident to attempt new tasks, even if at first they are unsure about how to tackle them.
This term we are learning through a theme of Fantasy, Fairy Tales and Magic. Our focus will be consolidating our sound and letter relationships, Narrative structure, increasing our vocabulary in both our ability
to read and to write language. During our Numeracy Block we will be cementing the counting principals and bonds to 10 and beyond.